Cherry Optical, Inc Tour & Training
Did you know Cherry Optical, Inc offers a hands-on 1 or 2-day dispensing training for new opticians?
Upon completion of the 2-day course, the attendee(s) will know how to do the following:
[caption id="attachment_4280" align="alignright" width="300"]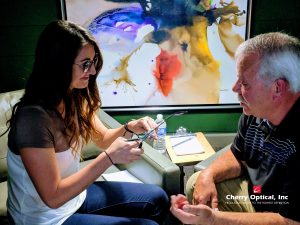 Lindsay of U.P. Ophthalmology adjusting Joe's Frames[/caption]
Adjust frames
Select proper lens materials
Employ the best fitting lens designs
Fit patients for multifocal lenses
Write a complete order
Order from a laboratory
Basic lensometry
Better communicate and present to a patient in a manner which improves the quality of service to your patients.
Want to see the lab for yourself? We provide regular lab tours as the technological landscape here is ever-changing. Stay up to date with the latest and greatest optical manufacturing advancements by scheduling a tour today!
Contact your Sales Representative or our Customer Service Team to get started:
customerservice@cherryopticalinc.com or (920) 469-2559.