Cherry Optical, Inc Survives Blizzard Evelyn 2018
It has been a wild few days here in the Green Bay area. If you aren't from around here, you may not be aware. Our meteorologists struggle at times with predicting the weather in the Frozen Tundra, because there are so many factors that impact it, what with the waters of Green Bay and Lake Michigan, to say the least. But this time, they were spot on. They predicted an epic storm, of proportions many have not seen in their lifetimes. They were not wrong. Here at Cherry Optical, Inc., we run operations 24/5, and at times, even more, to keep up with production and implementation of new equipment and programs for products. This weekend was set to be more than 24/5 due to AR upgrades and other events. Friday night, we started with hail, sleet, rain, and hail, sleet, and rain all over again. By midnight, the roads in the area were becoming impassable as the earlier weather had provided us with a lovely sheet of significant ice on all surfaces and had then covered it with four to five inches of snow. All by midnight and the storm was building in intensity. The forecasts hour by hour kept increasing the snow totals and the list of accidents and road closures. Our night crew ended up stranded with cars stuck in various parts of parking lots and entrance areas. We have provisions for this and were able to activate plans and send out larger vehicles to get folks safely home, even thirty miles away. Everyone was safely home by 7 AM Saturday. At the same time, Winter Storm Evelyn was upgraded to Blizzard status, highways were closing, tow bans were imposed, and the snow kept accumulating. Winds were 40 mph, with gusts up to quite a bit more. Sunday brought little change. The storm was expected to continue until midnight Sunday. Here is a view from our back-door Sunday afternoon:
Some staff that was closer to our company location came in to help with production as well as snow removal. Sunday afternoon, managers began mobilizing for helping Monday morning staff get into work. Teams set to work organized who needed help due to being snowed in, and who was available to help collect everyone safely. Teamwork to the rescue! AND, there is a Dodge Ram Longhorn that is being put to use to assist employees! So, don't worry, we are still standing, unlike at least seven other area businesses that as of the time of this writing have had roof collapses due to heavy snowfall. We will get our product out to our customers as fast as possible, all while maintaining our high-quality standards. Here is what local media outlets covered regarding the roads this weekend: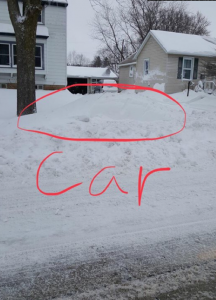 A local news station is reporting that as of 5:07 pm Sunday we have received 23.2 inches of snow in Green Bay. Since late Friday night... At the end of it all, we experienced the
2nd largest snowstorm in Green Bay history
. The first place snowfall record was established in March of 1888, meaning this is the biggest snowstorm any of us have lived through in Green Bay. At the moment we are hopeful for an end to this snow so we can all resume daily life! Ah, spring in Wisconsin!
Here's a recent article from the Green Bay Press-Gazette recapping the blizzard conditions, pictures of businesses with roofs that collapsed and flooding concerns: "Record blizzard cripples Green Bay as flooding concerns linger".