A True Whirlwind in Dallas On Behalf of Essilor
[caption id="attachment_1800" align="alignleft" width="277"]
Me & my son Nick[/caption]
Essilor Leaders Challenge Dallas Weekend
Let me start off by telling you that I, Mark, was the lucky Cherry Optical, Inc employee who won the raffle for a free trip for 2 to Dallas, with everything included. By everything I mean a weekend stay at the Gaylord Texan resort, a nice meal at Del Frisco's steak house, tickets to "Ice ", and a Suite at AT&T Stadium to watch the Cowboys vs. the Jets! A true whirlwind of a weekend!
Being a Dallas native (20yrs.), I couldn't have had better luck. Other than the fact that I was not so lucky when it came to acquiring a jersey to wear to the game. I ordered a jersey before leaving and it did not arrive in time. As soon as we landed, I got a call from Jon (Digital Surfacing Manager) saying my jersey was in Green Bay, and he would overnight it to me. It still didn't make it in time. As I'm writing this, I still have not seen that jersey. Someday... Since I took my son, Nick, a former Cherry employee, we made plans to see some family while we were there. Unfortunately, since we had such a tight schedule, we had to skip the dinner and comedy show. Instead, we met up with my little brother for some Texas BBQ. Afterwards, we found a shuttle and went to a local mall, where Nick purchased another Cowboys jersey to wear to the game.
The hotel we stayed at is 4-star resort with tons of shops and restaurants, so there was really no need to ever leave the place. We even found a Best Buy vending machine! At night, the hotel was lit up with Christmas and Nutcracker themed lighting, and there were families celebrating the holidays everywhere.
It made me feel like I was in the Mall of America! Saturday afternoon was the featured show "ICE", which consisted of a collection of Christmas-themed ice sculptures from around the world. We thought we were going to an Icecapades show, but it turns out this was much better. People in Dallas look forward to this show every year and stay at the hotel just for that reason. The sculptures were amazing, and they even had an igloo ice bar in the middle of it all. The temperature inside the ice show was 9 degrees. All of the other guests thought that was cold, but after living in Wisconsin, we knew better.
Up next was the AT&T Stadium. This is what Nick and I couldn't wait to see. It is such an enormous stadium, you could spend a day just touring it. We were taken to the Ring of Honor Suite, which offered an amazing view of the field. Even if you try to watch the play on the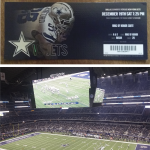 field, you can't help but look to the JumboTron hanging over the middle of the field. I swear it's the largest screen you'll ever see. The suite included numerous food and drink options, everything from Prawn shrimp and Prime Rib to fish tacos. We had our picture taken with a Cowboys cheerleader who stopped by, but the picture is property of the Dallas Cowboys, and can only be viewed online. After the game, we boarded the shuttle and headed back. The next morning, it was off to the airport.
Overall, It was really a lot to do in a short period of time, but it was an adventure I'll never forget. I would like to thank both Cherry Optical, Inc and Essilor for giving me this great opportunity. Being the "Grand Prizr" Winner feels great. ;)
UPDATE! Mark has been reunited with his long lost jersey.